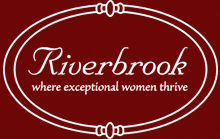 Welcome
A Special Welcome from Joan Burkhard,
Founder of Riverbrook
It is my pleasure to introduce you to the multifaceted Riverbrook Residence experience. A true community, Riverbrook provides for a wide range of individuals with developmental disabilities, all of whom thrive in our gentle supportive environment. We stress relationships, the joy of friendship and the security of a supervised home, which is staffed around the clock.
As a non-profit organization, our success is guided by a deeply committed Board of Directors who come from across the United States to assure Riverbrook's long-term viability. In partnership with our staff, the Board facilitates fund raising events and sets policies, which guide our many individualized programs. Ever mindful of the needs of our residents, they are frequent visitors and we are grateful for their generous spirits.
We hope this website will provide you with a snapshot of the opportunities available to your loved one. Please contact us with any questions you may have--or better yet, call for an appointment to come and visit us in the beautiful Berkshires.
Joan Burkhard,
Founder