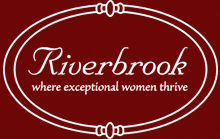 News and Events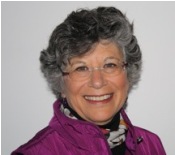 From My Window...
Today we woke to a frosty morning after the first snow – summer and fall have disappeared so quickly filled with productive activity at Riverbrook. We undertook a facelift in the main house. We were gifted with new Country Curtains, furniture, a new outdoor swing and volunteer painting. We scrubbed and washed, installed a new shower, updated bathrooms and carpeting. We think the house looks beautiful and we invite you to come and see if you agree.
The summer also brought some challenges. Longtime Riverbrook resident, Joanne King, moved to live with her family. We are missing her playful spirit. We wish her all the best in her new home and hope she will come often and visit her friends.
On a beautiful, sunny day in August, our dear friend, Kate Ryan, died unexpectedly. Her New York family held a service for her and the Riverbrook community followed suit on September 9th, Kate's 70th birthday. Two hundred and fifty people gathered to celebrate this remarkable woman's life. The day was filled with tears, laughter and the many memories of Kate's indomitable spirit. A poignant moment was shared by all as we released green balloons with Kate's signature shamrocks and many loving messages to the heavens.
We are absolutely certain the clouds parted and our gifts were received. Personally, I found the experience filled with the love of community, the ability to comfort and be comforted, the warmth of the embrace of friends not seen for many years and an amazing celebration of the rich life that is Riverbrook.
We are looking forward to the winter holidays with happy anticipation of time to be spent with those we care about. We have been reminded of how precious these relationships are. May yours be filled with light and love.
Joan Burkhard
Executive Director
---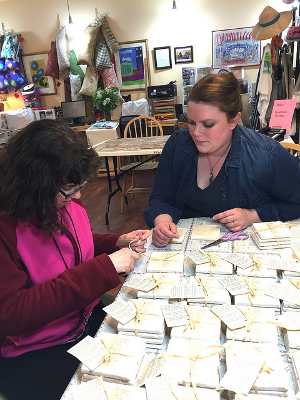 Doing Good Work, Well
In the year 2010, Anne Roy began a program we named "Riverbrook On Main". We rented space in the Stockbridge Town Hall and began with a blank slate. Through a generous grant from the Norris family, we hung walls, built workspaces, put in a floor and added lighting. The goal was to create microbusinesses, develop work and money skills in a public location where town residents were frequent visitors.
Riverbrook requested, and received a grant from Minkler Insurance to purchase two vending machines which would provide snacks to everyone working in the town offices. The women canvassed the building employees and stocked the machines to match their requests. They continue to manage this small and successful business today. From this base, Anne began to expand.
Women were invited to assemble the Stockbridge Congregational newsletter. Daily they deliver the mail to all the offices meeting and greeting as they became known to literally every Stockbridge resident. They began to participate in Open Table assisting with the set up and then came another mailing job for the Stockbridge Sportsmen's Club. They sold flowers at the local Elm Street Market and registered to vote.
Over time, more products were added – dishtowels, coasters, lavender sachets and catnip toys. Craft fairs became an additional venue for sales and helping the public understand our mission.
Another business sprung up – "Exceptionally Yours", a house cleaning crew and a weekly job at the First Congregational Church followed. Riverbrook's products were picked up by Naumkeag, The Red Lion Inn, The Floor Store, Charles Baldwin's, William's Country Store, and Local. The town requested and the women agreed to plant the urns and maintain them outside the Town Offices. Women applied bookplates to hundreds of books owned by Jane Fitzpatrick. Opportunities presented for products to be sold to the Lenox Pharmacy and Fairview Hospital's gift shop.
Each year, success upon success, created stimulating vocational experiences. New opportunities for honing socially appropriate business skills and growing pride in accomplishment was evident. Riverbrook On Main grew organically in the local community. Our residents grew with their expanding businesses.
Anne Roy guided the process with respect, a keen business sense and a loving hand. Staff members Kim Gennari, Stacy Surber, Kathy Leahey and Theresa Miner assisted. Anne will be stepping back from Riverbrook On Main in January of 2017. We are pleased to say she will continue to be part of the Riverbrook family but in a new role. Her legacy will continue as we expand our involvement in the world of work.
---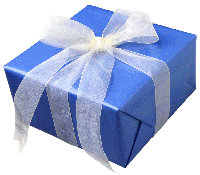 Shop Amazon, Support Riverbrook
Now your Amazon purchases can help support Riverbrook! Just do your shopping through their new program, Amazon Smile, and 0.5% of each purchase will be donated to Riverbrook. Visit smile.amazon.com to sign up, or click here for more detailed instructions.
---
---
---
Like Riverbrook on Facebook for photos, videos, news and more!
---
Help Spread the Word!
If you know someone who would be interested in the unique and innovative work being done at Riverbrook, please consider pointing them to our website and encouraging them to join our email list. The endorsement of our committed community is our best publicity!