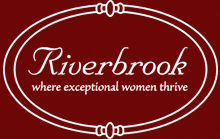 News and Events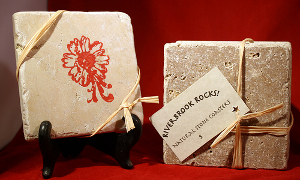 Join Riverbrook on Main at the Holiday Marketplace!
Riverbrook on Main will be at the Berkshire Botanical Gardens Holiday Marketplace! December 7th, 10-5 & 8th , 10-4. Come browse our great handmade products -- everything from baby blankets to jewelry, Riverbrook Rocks Coasters, Christmas ornaments and more. Get a great gift for someone on your list and support a business run by women with developmental disabilities.
Learn more about Riverbrook's innovative vocational program here. For directions and more information, please visit the Berkshire Botanical Gardens website. Hope to see you there!
---
Riverbrook on the Lion's Den TV Show
Tune in to PCTV Channel 16 starting on November 25th to see Riverbrook resident Tanny discuss her new SMART brailler, obtained through the generosity of local Lion's Club chapters. The show will re-air throughout December. Not local? No worries! You can catch the show online. Click here for more info.
---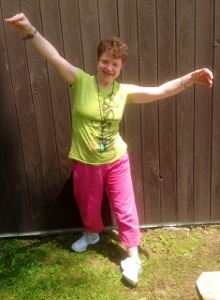 Meet the Artist
Artist and Riverbrook resident Katie Flynn will have her second annual art show at the Stockbridge Library this December! Working with her mentor, artist Janice Shields, Katie creates paintings and sculptures based on everything from the beauty of the natural world to other worlds, creatures and spaceships that Katie imagines and brings to life.
Katie invites you to join her on December 1st at 2pm at the Stockbridge Library (directions) for an opening reception. Meet the artist and her mentor, enjoy some light refreshments and show your support for outsider art!
Read about Katie's 2012 art show here...
---
WAMC Features Long-Lasting Friendship of Riverbrook Residents
"Long-lasting friendships can be hard to foster, let alone sustain, in a modern world defined by constant movement and change. But, a pair of lifelong companions in Stockbridge couldn't imagine life without each other."
WAMC's Berkshire Bureau Chief visited Riverbrook to meet Kate and Boothie, two residents whose 50-year friendship demonstrates the impact that close personal relationships can have -- not just on the friends themselves, but on everyone around them too.
Listen to the show on WAMC. • Read more about Kate and Boothie
---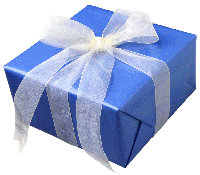 Shop Amazon, Support Riverbrook
Now your Amazon purchases can help support Riverbrook! Just do your shopping through their new program, Amazon Smile, and 0.5% of each purchase will be donated to Riverbrook. Visit smile.amazon.com to sign up, or click here for more detailed instructions.
---
Resident Advocates for Disability Treaty
One of resident Sue Croll's first acts upon joining Riverbrook's Human Rights Committee was to write to her representatives urging them to ratify The Disability Treaty. The treaty, formally known as the Convention on the Rights of Persons with Disabilities, will provide a framework for nations around the world to ensure fair treatment and equal opportunities for people with disabilities. The treaty has already been ratified by 126 nations, but the united states has yet to sign.
Sue recently received a response to her letter from Massachusetts Senator Elizabeth Warren, who wrote:
"My first job after college was teaching special education students at a public elementary school, and I understand how important it is to protect the rights of people with disabilities and promote services that allow them to live full and rich lives. [. . .] While the treaty fell short of the 66 votes in the Senate necessary for ratification last year, I am hopeful that this treaty will come to a vote again and I look forward to supporting it."
Sue was happy to receive such a positive response and proud to know that her Senator supports ratifying the Convention on the Rights of Persons with Disabilities.
---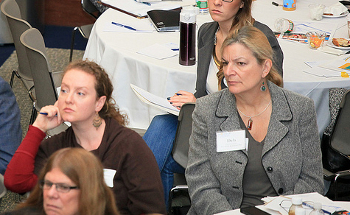 Employment First
Massachusetts agencies are making strides on a plan to develop more inclusive employment settings with higher earning potential for people with disabilities. On November 1st, the Association of Developmental Disabilities Providers, The Arc of Mass and the Mass Department of Developmental Services met to review a consensus plan to enourage the expansion of more inclusive employment settings with higher earning potential for people with disabilities. Riverbook's Executive Director Deborah Francome and Program Director Rebecca Amuso attended the meeting at which recommendations were presented to Secretary John Polanowicz, who will bring the plan to Governor Patrick's attention. Included in the plan is an investment by the State to fund expanded Community Based Day Supports, Supported & Integrated Employment opportunities.
Employment opportunities have long been an important part of Riverbrook's approach. Residents work at a variety of local businesses including the prestigious Red Lion Inn; some are hired to help with tasks that make Riverbrook run smoothly, and others have worked with staff to start their own business producing hand-crafted products at Riverbrook on Main.
---
A Year at Riverbrook
Each year at Riverbrook brings new experiences, challenges and joys. We often wish you could be here with us to see the triumphs of these remarkable women, but because that isn't always possible, we put together this video to give you a taste of a year at Riverbrook.
---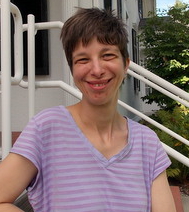 Safety starts with S,
but it begins with YOU!
This year we will be embarking on a number of safety enhancements to our facilities and we need your help. Click to learn more.
---
---
Like Riverbrook on Facebook for photos, videos, news and more!
---
Help Spread the Word!
If you know someone who would be interested in the unique and innovative work being done at Riverbrook, please consider pointing them to our website and encouraging them to join our email list. The endorsement of our committed community is our best publicity!