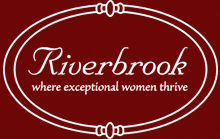 News and Events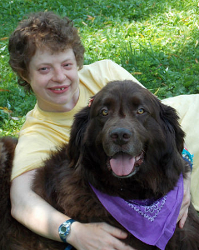 Hey all you Hero Hounds & Humans!
My pal Katie and I invite you to join us in supporting the grr-rr-reat programs at Riverbrook on October 19th!
All we need to do is take our human for a walk through Stockbridge and have their buddies and best friends sponsor us! The proceeds will help fund Roverbrook Pet Therapy, Riverbrook on Main, Riverbrook's Exceptionally Yours Cleaning Co., Riverbrook's Ready to Work program... and all of the other pawsome things that Riverbrook does for our community.
Our friends at Riverbrook need us -- so let's put our best paw forward and release the hounds! Click here for all the information you need to get signed up.
Pawsitively Yours,
Coco Chanel
Roverbrook Therapy Dog
---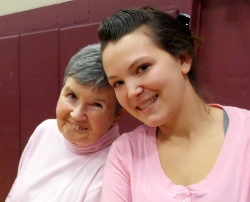 Riverbrook Honored by Berkshires Community
Riverbrook was honored this February by the Golden Knights, the Berkshires' intramural basketball program for girls in grades K-8. The Golden Knights presented Riverbrook with a generous donation at their annual basketball tournament. The invitational tournament draws teams from throughout New England, New York and even Canada, and the Knights use the opportunity to raise awareness for breast cancer research. Riverbrook residents donned pink, proudly led the parade of athletes and were thrilled to be recognized by Representative Smitty Pignatelli.
Riverbrook will also be recognized at the Berkshire Chamber of Commerce Good News Salute breakfast on February 26th. The Chamber will commend Riverbrook for our positive impact over the course of 50+ years in the community.
---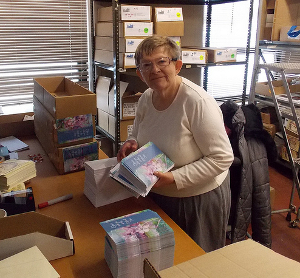 Good Work at Riverbrook
"Everyone has been made for some particular work, and the desire for that work has been put in every heart." -- Rumi, 13th Century poet, theologian and mystic
Helping women with intellectual disabilities find fulfilling work in the community is an important part of Riverbrook's day program services. A recent report by Gallup and Special Olympics revealed that only 34 percent of people with intellectual disabilities are currently employed, and many are paid well under minimum wage.
At Riverbrook, every woman who wants paid employment is given the opportunity for meaningful work at no less than minimum wage. Read more about our employment program.
---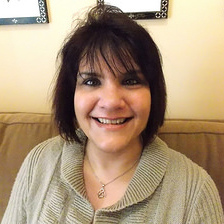 Staff Spotlight:
Kathy Leahey, Assistant Program Coordinator
Assistant Day Program Coordinator Kathy Leahey is featured in this month's edition of The Provider, an industry newsletter published by the Massachusetts Council of Human Service Providers. Kathy was selected for her positive attitude and her caring, intuitive nature.
"Leahey's specialized training [. . .] as well as her calm and patient personality, has allowed her to develop deep bonds of trust with both residents and staff in the two-plus years she has been at Riverbrook."
Congratulations, Kathy! We're so glad to have you on our team. Read the rest of the article here.
---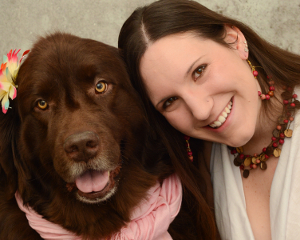 Coco In the Community
Every Monday, residents at the Life Enrichment Memory Program at Kimball Farms in Lenox receive a special visit from a furry friend. Therapy dog Coco Chanel has been invited to Kimball Farms by Life Enrichment Coordinator Sharon Lazerson to help brighten days and bring back memories. Coco is accompanied by her owner/trainer Abbey Hanley and Riverbrook residents Carlina and Tanny.
Coco and her team are greeted by an enthusiastic group each week. Residents brush Coco, pet her, get kisses from her and give her treats. "Although some of the residents struggle to remember basic details of their every-day lives," says Abbey, a long-time Riverbrook staff member, "Coco helps them to remember other dogs that they have known and loved."
Tanny loves to talk to the residents about their long lives and many experiences. One man enjoys showing off albums full of photos of his great Pyrenees dog; another resident recalls her childhood dog, Mango, and all love they shared. One of the residents even knows a little sign language and enjoys being able to talk with Carlina, who is fluent.
Coco Chanel is the smart, loving and funny chocolate Newfoundland dog around whom Riverbrook's animal therapy program was founded.
---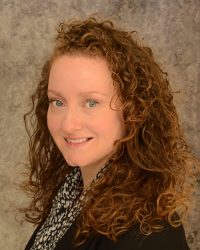 Staff Spotlight:
Rebecca Amuso, Program Director
Congratulations are in order for Riverbrook's Program Director Rebecca Amuso, who became a Registered Nurse this fall!
Rebecca, who began working at Riverbrook in 1998 as direct care staff, sees her nursing degree as a natural evolution of her work with the organization. "I was always interested in nursing," she says, "And I saw it as a set of skills that Riverbrook could benefit from -- a clinical perspective." Now Riverbrook has a full-time RN during the day and a Nurse Practitioner in the evenings in addition to medically trained direct care staff, allowing us to provide the best care possible to the residents.
In addition, Rebecca says that becoming a nurse has helped give her a clearer perspective on the role the women's health plays in their every day lives. "It allows me to take a medical approach to problem solving," she says, a perspective that makes a great addition to Riverbrook's leadership team.
Rebecca earned her BA in Human Services from the University of Massachusetts in 2008, and a graduate certificate in Non-Profit Management from Clark University in 2011. In 2012 she was promoted from Program Coordinator to Program Director. "Creating an atmosphere where the women can thrive and be independent, and watching them pursue their own lives and relationships, is so rewarding," she says. "We're giving them a platform of safety from which they can leap into the world."
---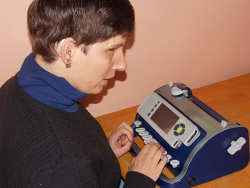 New Opportunities
Last summer we told you about Riverbrook resident Tanny Labshere and her brand new Perkins SMART Brailler. The high-tech machine has speakers and a digital screen; as Tanny types, the brailler can speak the words in real-time and display them on the screen in large-print or SimBraille. It's an amazing tool for learning and teaching, light-years ahead of the 40 year old brailler it replaces. The brailler was obtained through the generosity of The Lion's Club.
The brailler has opened up a world of opportunities for Tanny, including new possibilities for paid employment. Tanny was hired by Zucco's Family Restaurant in Pittsfield to translate their menu to braille as a service to their visually impaired customers. Tanny worked hard to produce a high-quality project. She says it was a great experience, and she's looking forward to more work in the future.
Catch Tanny on The Lion's Den on PCTV online. If your business is interested in hiring Tanny's braille translation services, please contact Riverbrook.
---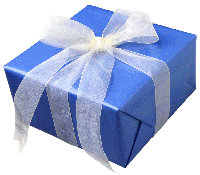 Shop Amazon, Support Riverbrook
Now your Amazon purchases can help support Riverbrook! Just do your shopping through their new program, Amazon Smile, and 0.5% of each purchase will be donated to Riverbrook. Visit smile.amazon.com to sign up, or click here for more detailed instructions.
---
A Year at Riverbrook
Each year at Riverbrook brings new experiences, challenges and joys. We often wish you could be here with us to see the triumphs of these remarkable women, but because that isn't always possible, we put together this video to give you a taste of a year at Riverbrook.
---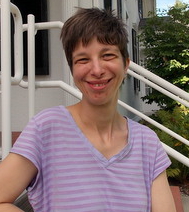 Safety starts with S,
but it begins with YOU!
This year we will be embarking on a number of safety enhancements to our facilities and we need your help. Click to learn more.
---
---
Like Riverbrook on Facebook for photos, videos, news and more!
---
Help Spread the Word!
If you know someone who would be interested in the unique and innovative work being done at Riverbrook, please consider pointing them to our website and encouraging them to join our email list. The endorsement of our committed community is our best publicity!