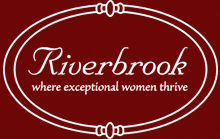 News and Events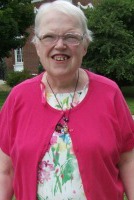 The Riverbrook Writing Workshop
Riverbrook resident Sue Croll is a member of the Riverbrook Writing Workshop, lead by journalist and professor Claudia Ricci. The group meets weekly to practice thinking and writing creatively. Since retiring from her long-time job at the Red Lion Inn, Sue has been able to make more time for creative pursuits! Read her take on the weekly writing group here.
---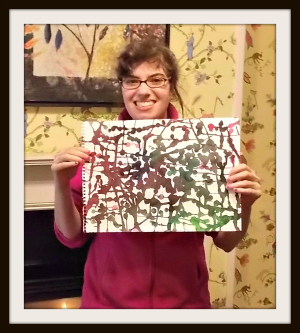 Riverbrook artists featured in First Fridays Artswalk
Artists and Riverbrook women Katie Flynn and Francesca Brown are being featured in a two-woman show at the Marketplace Cafe in Pittsfield during the month of March. The show kicks off with an opening reception on Friday, March 6th during Pittsfield's First Fridays Artswalk. Stop by from 5 to 8 to meet the artists, view their work, and maybe even win a piece for your home or office!
Read more about the artists here.
---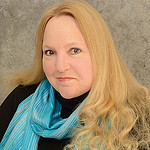 Staff Spotlight: Ruth Hanley, Human Rights Officer & Human Resources Manager
Ruth Hanley has been with Riverbrook for 15 years, and in that time she's served in many roles, from direct care to human resources. But two years into her tenure here, Ruth took on a new and enormously important responsibility: Human Rights Officer. After undergoing extensive training with the Department of Developmental Services, Ruth took up the position with gusto, acting as the eyes and ears of the agency to support the women's human, civil and legal rights.
Read more about Ruth's important role in Riverbrook's human rights program.
---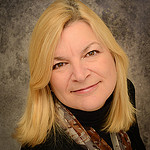 Happy New Year! There's something so exciting about January, with all of its fresh starts and new beginnings. At Riverbrook, we are starting the year with an attitude of gratitude! We are so grateful for our community here in the Berkshires, as well as our wider community of friends and families spread across the state and across the country. I'm certainly grateful for our outstanding staff, whose caring and enthusiastic natures make Riverbrook such a terrific place to live, work and play. We're grateful too for our dedicated Board of Directors for their support and guidance on important matters.

Most of all, we're all so grateful to our donors. Their generosity allows Riverbrook to provide a truly unique model of care for our residents, who benefit tremendously from an environment of respect, opportunity and kindness. We sincerely couldn't do this work without you all, so thank you!

Sincerely,
Deborah Francome
Executive Director
---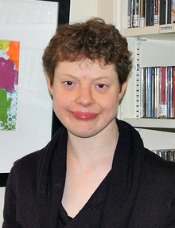 Riverbrook at Work: The Red Lion Inn
It's a Friday evening at Riverbrook, and Katie is donning her uniform and preparing for her evening shift at the Red Lion Inn, where she provides turn-down service for guests three nights a week. Katie is only the most recent in a long line of Riverbrook women who have worked at the Red Lion Inn, from Kate Ryan and Sue Croll, whose long-time employment and subsequent retirement was celebrated with a party at the Inn in 2013, to Jessica Sternick and Tracy Salvadore, who have been stamping paychecks for the Inn's Administrative department for years. Read More about Riverook's unique relationship with the Red Lion...
---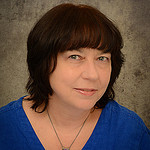 Staff Spotlight:
Kathryn Wedderburn, Day Program Coordinator and Facilities Manager
For over 20 years, Day Program Coordinator Kathryn Wedderburn has dedicated herself to working with individuals with developmental disabilities. It's not hard to see why the field has provided a successful career for Kathryn -- she approaches her job with a cheerful seriousness that keeps Riverbrook running like a well-oiled machine, and Riverbrook women naturally respond to her chatty enthusiasm and encouragement. Read More...
---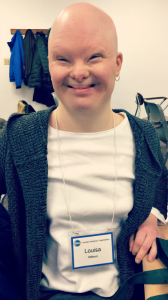 Louisa's Life as a Leader
Riverbrook Resident Louisa Milonzi has embarked upon a career as a public speaker. She began working with mentors and job coaches last summer, who encouraged her to try her hand at Toastmasters, a club for learning public speaking and leadership skills. Here's her story, in her own words.
It all started about six months ago, when my mentor Jerry Posner came up to me and suggested I try out Toastmasters. When I had my first lesson with Jerry at Riverbrook, I felt a little nervous at first and somewhat shy because I wasn't sure this would go well, but Jerry said he saw so much potential in me. My job coach Colleen took me to my first Toastmasters meeting. I got to watch other people make speeches and I was nervous and somewhat shy again because I was new and didn't know anyone. But ever since my first day at Toastmasters, I just fell in love with the people and the happy atmosphere. My first speech was about the fall and I talked about my childhood. I was nervous to give my speech in front of a large audience but everyone clapped and cheered for me. Jerry, Colleen and the rest of the staff at Riverbrook were extra proud of me for joining Toastmasters because everyone knew the experience would help my public speaking career. I attended a self advocacy class at Berkshire Community College in Puttsfield and the class was about leadership. I felt that taking this class really helped me learn more about what leadership is really about: being a role model to the others, to help them, to give back to the community, and to make an effort every day.
---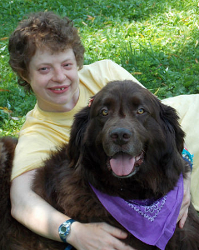 Paws for Possibilities: A Stunning Success!
Thank you to everyone who turned out to support Riverbrook's charity dog walk, Paws for Possibilities! Thanks to the generosity of our walkers, their friends and family, and our business sponsors, we were able to raise over $20k for Riverbrook's unique and important programs for women with disabilities. Despite the unseasonably cool weather, the turn-out was terrific! The crowd warmed up by walking from the residence through downtown Stockbridge and back, much to the delight of dog-loving shoppers and people driving by. Music, competitions, a K9 demonstration and a delicious lunch made by Riverbrook's head chef rounded out the day, and each pup left with a gift bag full of goodies. Stay tuned for news about next year's event!
---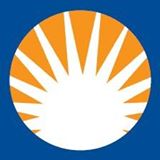 Riverbrook wins Peer Provider Award
The Massachusetts Council of Human Service Providers awarded Riverbrook the Peer Provider Award on November 17th at the Providers' Council annual conference in Boston! We were nominated by our peer provider organizations. The award is a tremendous honor and a testament to the hard work and dedication of our staff and administrators. Thank you all for your support!
---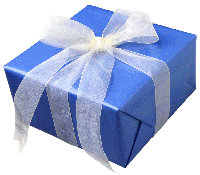 Shop Amazon, Support Riverbrook
Now your Amazon purchases can help support Riverbrook! Just do your shopping through their new program, Amazon Smile, and 0.5% of each purchase will be donated to Riverbrook. Visit smile.amazon.com to sign up, or click here for more detailed instructions.
---
A Year at Riverbrook
Each year at Riverbrook brings new experiences, challenges and joys. We often wish you could be here with us to see the triumphs of these remarkable women, but because that isn't always possible, we put together this video to give you a taste of a year at Riverbrook.
---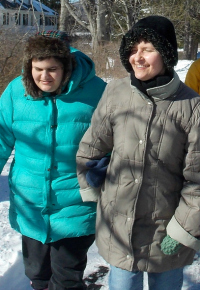 Baby It's Cold Outside...
Just ahead of what's expected to be one of the coldest winters on record, we've learned that Riverbrook needs new heating systems. Help us keep Riverbrook warm and comfortable by making a donation today!
---
---
Like Riverbrook on Facebook for photos, videos, news and more!
---
Help Spread the Word!
If you know someone who would be interested in the unique and innovative work being done at Riverbrook, please consider pointing them to our website and encouraging them to join our email list. The endorsement of our committed community is our best publicity!