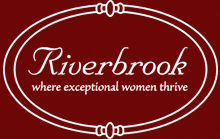 Health, Safety & Nutrition
Riverbrook Residence is a state-of-the-art facility that offers optimum physical safety to women with developmental disabilities.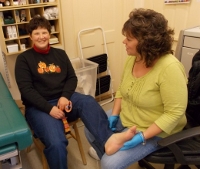 Health
The health of our residents is a priority. Our Health Services co-ordinator provides comprehensive care and accompanies the women to all medical appointments. Minor medical needs are treated and referrals are made as necessary. Riverbrook's RN also reviews the medication system and makes sure that all employees are properly certified and trained. Every Riverbrook resident receives annual physicals, semi-annual dentals, and eye exams every two years. In addition, local medical specialists are consulted as needed. The families are kept up-dated on the women's general health and notified promptly should any issues arise.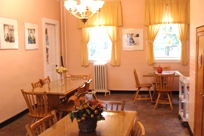 Safety
Riverbrook Residence is a state-of-the-art facility in terms of the physical safety it offers women with developmental disabilities. At least four staff members, including one medically-trained staff person are on duty at all times to guarantee optimum 24-hour care. Staff are instructed in the individual safety, dietary, bathing and medical needs of each resident and all staff are trained in emergency response. Safety assessments are conducted for each resident at their work and recreational sites. The small-town of Stockbridge, MA supports Riverbrook's women, most of whom are well-known throughout the community.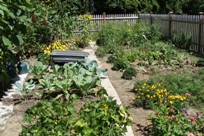 Nutrition
Located in beautiful, pastoral setting with fresh Berkshire Mountain air, Riverbrook prides itself on offering its residents the safest and most healthy environment possible. Riverbrook residents enjoy nutritious home-cooked meals, often prepared with organic ingredients from our own garden and local producers. Riverbrook employs a fulltime Assistant Day Program Coordinator in charge of kitchen services who consults with our RN to tailor meal planning to meet individual medical needs through healthy diet. The Riverbrook women assist with meal preparation and in the garden as part of their day program.
Women make choices about diet and exercise needs. They are knowledgeable about their individual health needs and take great pride in being responsible for themselves. Some women choose to participate in Weight Watchers and are assisted in attending the meetings and with developing weekly menus.