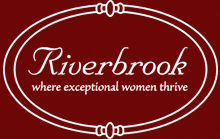 Riverbrook Music Program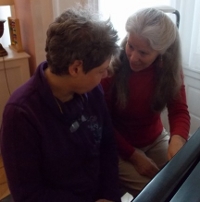 Riverbrook hosts an acclaimed music program directed by music educator Bonnie McCubbin. Bonnie is a certified music teacher whose training includes a Master's Degree in Vocal Performance, a Bachelor's Degree in Violin and a Professional Diploma in Voice Movement Therapy. She is a music and art teacher at the St. Stanislaus Kostka School in Adams, MA as well as a music teacher at the Berkshire Music School in Pittsfield. Since 1980 she has worked with children and adults with developmental disabilities and is "dedicated to enriching the lives of people through joyous music making!"
The Riverbrook women have performed throughout the Berkshire community and beyond at local houses of worship, historic inns, nursing homes, and fundraisers. One resident, Tanny Labshere, has performed three times for Governor Deval Patrick.
Flying Free: Music Without Limits
"Flying Free: Music without Limits" was a performance of improvised and semi-improvised piano duets with the Riverbrook women and former Riverbrook music director Jessica Roemischer. "Flying Free" was jointly sponsored by the Boston Symphony Orchestra's Community Education Program, the internationally acclaimed theater company, Shakespeare and Co. and Miss Hall's School. The event was supported by a grant from Caroline and James Taylor.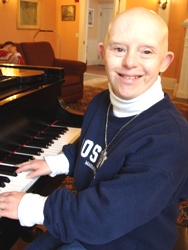 Riverbrook Music Program in the Press